Destination
Welcome to the unprecedented city of the world, Istanbul...
CVK Park Bosphorus Hotel Istanbul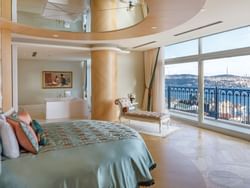 A five-star luxury hotel at the heart of İstanbul, introducing the famous Turkish hospitality to guests from all around the world.
Being a cradle of civilizations, Istanbul is unique for embodying the traditions and traces of numerous cultures, religions and textures. All these add up to form a city of significant value for world heritage, the capital of three different empires in the history.

The city enchants its visitors not only with its architectural pieces of art, but also with its peerless landscape of the Bosphorus; the strait separating two continents as well as the city itself; Europe and Asia.

This one and only city in the world constituted on two different continentals, is both geographically and culturally a bridge between the East and The West.

Nevertheless Istanbul is unique mostly by being a melting pot of new and ancient, post-modern and traditional in all aspects...Architecture, gastronomy, arts, shopping and entertainment.
Be prepared to get lost in this vibrant city and discover its dazzling treasures!
Useful Information
Time Zone: GMT+2hours Eastern Europe Time
Language: Turkish
Currency: Turkish Lira
Plug Type: C type plug, local voltage is 220-240
Weekly Holiday: Sundays (Please check for museums)